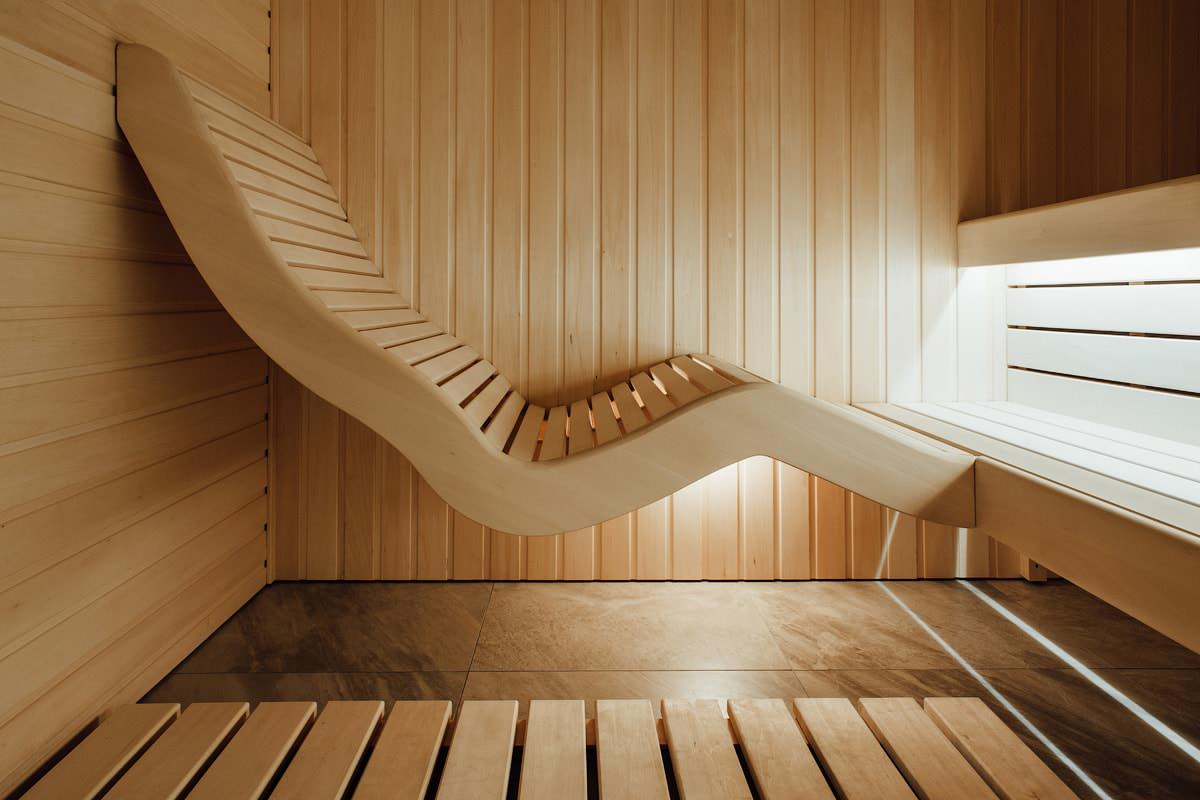 Custom sauna benches need to be sturdy, functional and attractive.
The right materials, design, and construction methods for your custom sauna benches will give you benches that are functional and beautiful. Your sauna construction plans should take the following ideas into consideration before starting on the benches.
Which materials should you use?
Cedar is the wood of choice for custom sauna benches, also known as platforms.
1 x 4 or 2 x 4 is a good size lumber to use for sauna bench construction. Any wider and it tends to warp in the constantly changing conditions of a sauna. Any thinner is not practical.
Use full lengths of clear knot-free lumber.
Don't splice boards together; the joint will never stay tight.
You want to leave ½ an inch or so between boards for ventilation and moisture.
Any and all hardware needs to be corrosion resistant and hidden if possible. If it can rust it will in a sauna. Use galvanized if you must but brass is best.
Woods You Can Use
The wood you end up choosing should depend on the overall style of your sauna. Whether you want your sauna to have a modern appearance, a rustic design, or a minimalistic look, there are several kinds of wood that are good to use.
Apart from the aesthetics, the wood for your sauna bench should respond well to heat and be resistant to moisture. Simply, the wood needs to be both functional and practical. Choosing the wrong type of wood for your sauna bench could end up being a disaster.
As mentioned before, cedar is the best choice when you want to build a custom sauna bench. Cedar gives sauna benches an elegant look. Once it's exposed to heat, the wood releases an appealing natural smell. It is a popular choice, but you can choose other options.
Here are some wooden materials that are great alternatives to cedar.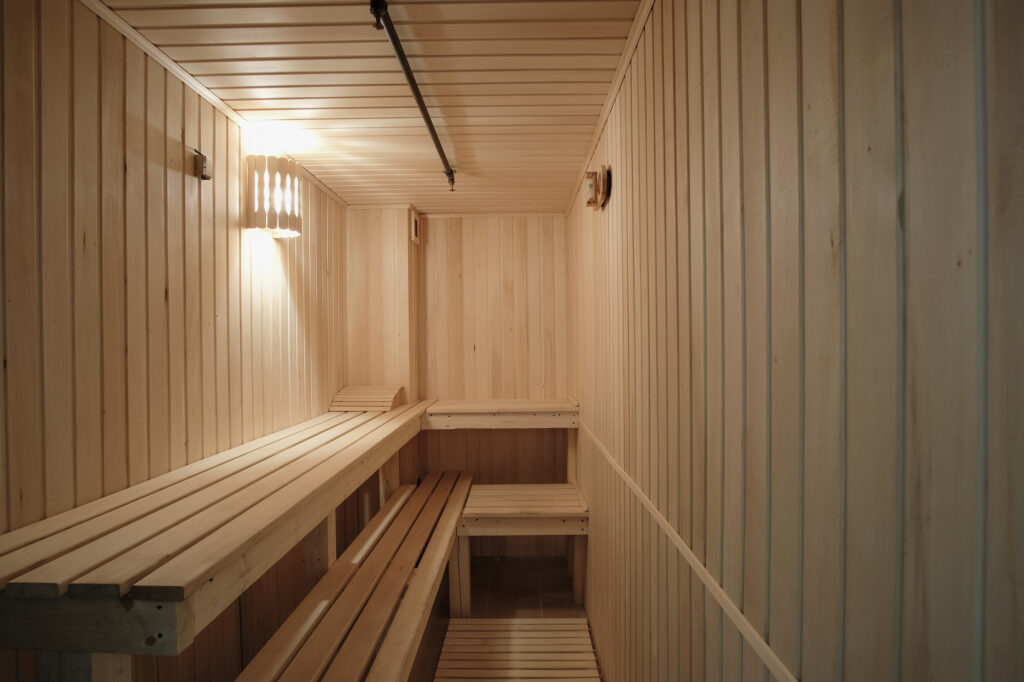 Aspen
Aspen is another fantastic and popular choice for your sauna bench. This wood works well in all sauna types due to its light color; this material is an excellent fit for saunas with a modern look or a minimalistic design.
What's more, this type of wood doesn't get too hot once exposed to heat. It's also a good option if you're planning to paint over the wood. Finally, if you choose aspen for your wooden planks, you won't have to worry about splinters or resin.
Pine
The most common type of pine tree used for sauna construction is called Scots pine. If your sauna has a rustic aesthetic, perhaps use pine planks for your sauna bench. While pine is a popular choice for outer walls, it can also make great bench planks.
The reason why pine is commonly used for saunas is because of its durability. In fact, its appearance improves over time. The best part about using pine planks is the appealing fresh smell, which becomes even more accentuated once exposed to heat.
Pine planks are darker than aspen, and they have a light-red undertone. Their natural pattern makes them an ideal fit for any type of sauna.
Spruce
If you want a light-colored sauna bench, then spruce might be the right option for you. The most common type of spruce used for sauna construction is Norway spruce. These types of wooden planks almost have a pale, white color or an occasional yellow undertone.
Spruce planks are pretty durable, and they produce very small amounts of resin. You also don't have to worry about the color, as spruce planks retain their pale shade for years. Due to its functionality, spruce is also more commonly used for sauna walls, but they make excellent bench material as well.
Alder
Alder can be used for various parts of a sauna. It's also known as common alder or black alder. Contrary to its name, alder usually has a reddish color, which deepens with time. Due to its high-quality texture, alder is a popular choice for sauna construction.
Since alder is water-repellent, you don't have to worry about the wood absorbing moisture and steam. This type of wooden material doesn't overheat, so it's definitely an option you should consider for your sauna bench. In addition, it's easy to clean and maintain.
White Ash
Another popular option, white ash, is a white deciduous tree that grows in North America. The reasons why you should consider using white ash for your sauna bench are the wood's durability and strength. It comes in an elegant white color, but you can also find ash planks that are dark-hued.
Using white ash planks for your sauna bench will give it a modern, luxurious look, and it will create a beautiful contrast in your sauna. In addition, if you choose white ash for your sauna bench, you'll be making an excellent investment, as this type of wood ages well.
Magnolia
Magnolia wood is usually colored in golden shades with slightly darker hues. It has similar characteristics as pine and white ash trees. Magnolia is used to make interior and exterior paneling, as well as planks for sauna benches.
The reason why magnolia is an excellent option for sauna construction is its low density; it reacts well to water and moisture, so you don't have to worry about the wooden planks overheating when you use your sauna. In addition, magnolia is a popular choice for saunas that have a cozy, rustic appeal.
Poplar
Poplar is an excellent option if you want to choose light colors for your sauna bench. Poplar usually has a pale yellow color, but it can sometimes be found in white tones. Due to its smooth texture, it's easy to shape and maintain.
Poplar is a durable wood that can be used to make sauna walls and benches. It usually has no exposed knots, and it doesn't produce resin and splinters. Most importantly, poplar is heat-resistant, making it an ideal material for a sauna bench.
What should your design be?
Make a drawing of your layout first. Even if you are not a visual learner a sketch will insure that everything fits before you build it. Using a piece of graph paper makes dimensions truer and easier to draw.
You will use the top benches most. There can be a heat difference of 1 degree for each inch of elevation. That means the top platforms are considerably hotter than the lower ones.
You will be sitting, laying and semi-reclining. You will want your feet up sometimes and your head up at others. Design for all these options.
Small portable hand made Cedar head/foot rests are a great addition and give it that real custom sauna feel.
It is generally best to have the benches go the entire length of a wall. It is also easier to build them this way because you can use the end walls for support.
A classic pattern is to have 2 tiers of platforms. The first is 16"-18" off the floor and the second is 16″-18″ above that. You should leave 42"-48" inches of headroom above the upper platform. Anything less is cramped and anything more wastes heat. The upper bench should be about 20" wide and the lower protrudes about 16" beyond that.
Some people like to block in the fronts of the benches to reduce the area to be heated. This helps but makes cleaning under the benches difficult. It is important to be able to clean all areas of your sauna to prevent bacterial growth.
If you decide to block the benches in, one compromise is to hinge the fronts so they can be moved out of the way for cleaning.
Another option used in some custom saunas to save space is to have the lower level benches movable. You can then slide them in and out for stepping up to the top benches or cleaning.
Construction
Platforms need to be sturdy. It is better to overbuild them than to make them flimsy. A bench that is designed for one person to lie on is likely to have three people sitting on it at some point.
A standard pattern is to have 1 x 4 planks over a 2 x 4 framework. Be sure to add plenty of cross members for strength.
Screws will hold longer and better than nails.
Wherever possible you should blind screw the boards together. This is cleaner looking and reduces corrosion by eliminating holes for water to pool in.
If you can't use a blind screw pattern, be sure to countersink screw heads and fill the holes to prevent pooling.
Your custom sauna will be in use for a long time so build the best possible benches. Before finalizing your sauna construction plans you should think through the bench design carefully. Benches shouldn't just look good; they also need to be solid and functional.
Seating Layouts
There are various types of seating layouts you can choose for your sauna. However, as mentioned before, you need to make a drawing of your setup first. This step is crucial, as it will determine your sauna's final look.
Saunas that are built for personal use usually have room for four people at the most. On the other hand, larger saunas for commercial usage can generally hold up to 12 people. The size of your sauna will ultimately depend on your plans, preferences, and budget.
Saunas intended for more people usually contain two or more levels. Therefore, it's best to build a sauna bench that goes along the entire length of the wall so that you have enough room to sit comfortably. These sauna benches are also much easier to build, especially compared to some more complicated designs.
Another popular choice for a seating layout is the L-shaped design. This type of seating layout involves an L-shaped bench that stretches across two adjacent walls. This design is more popular for larger saunas, where people can sit, relax, and chat.
There are various other seating layouts for custom sauna benches. It all depends on how creative you can be and how much time you are willing to devote to this project.
What You Should Keep in Mind
When building a sauna bench, there are a couple of things you need to think about.
To begin with, don't forget to check the required distance between the sauna bench and the heater. This ultimately depends on the type of wood you decide to use. You don't want the heater to be too close to the bench. Likewise, if it's too far away, you won't feel the effects of the sauna.
Another aspect to think about is how you plan to maintain and clean the sauna bench. If you don't clean the sauna bench regularly, you might risk a bacterial infection.
Thirdly, when you finish using your sauna bench, it's essential to let it breathe. The sauna should be properly aired out after each use.
Following these steps will help maintain your sauna bench, which means that you will be able to use it for an extended period.
Think About Comfort
While functionality and appearance are important aspects of building sauna benches, let's not forget another essential factor: Your sauna bench is supposed to be comfortable. It doesn't matter who will end up using the sauna; you're supposed to sit or lay there for some time.
Another thing you can do to maximize your relaxing experience is to make sure that there is enough room. Remember, your sauna bench isn't supposed to take up too much space in the sauna. However, there should still be enough room to move around and stand up without your head hitting the ceiling.
If you have two or three levels in your sauna, ensure that there is enough headroom above the final platform. You don't want your sauna to make you feel claustrophobic.
Also, make sure that the sauna bench is long enough for you to lie down. Finally, decide whether you'll install a backrest for your sauna bench. While this maximizes comfort, it can take up a lot of room.
Build a Sauna Bench That Meets All Your Needs
There are a couple of things you need to think about when you build a sauna bench.
First, the bench's design should fit the size of your sauna, and there should be enough room to use it properly. Then, to ensure maximum comfort levels, add two or three levels that go along the wall.
Secondly, choose a wooden material that both ensures functionality and durability, as well as one that fits your sauna's appearance.
Lastly, make sure to construct the sauna bench to make it last for a long time. Regularly maintaining and cleaning your sauna bench will make it feel brand-new.
Remember, your sauna bench is supposed to be practical and comfortable at the same time.
How do you seal a wooden sauna?
We recommend sealing the inside of a sauna especially the wooden benches with a special waterproof sauna sealant. This water-based sealant has no off gas even in high heat and will not discolor the inside of the sauna wood like other stains. It goes on like water quickly being absorbed into the wood.
Should I finish the wood in my sauna?
No, you should not stain, varnish, or paint the interior of the saunas. Doing so would inhibit the ability of the cedar wood to release humidity, which may result in cracking or warping. Also, artificial finishes may create fumes when the sauna is operating which can be toxic.
How tall should my sauna be?
Most often, however, an average sauna ceiling height is 84 inches and a maximum safe ceiling height is 96 inches – but be sure to check the numbers for your specific make and model. If you plan on laying down in sauna: You'll need at least 6 feet in one direction, while ceiling space above 7 feet is typically wasted.